12v Cooler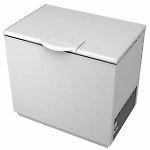 This 12v cooler was invented by NASA engineers.
David Bergeron and Michael Ewert invented their cooler after developing advanced refrigeration technology for NASA at the Johnson Space Center.
This advanced technology uses battery-free, solar power to refrigerate and air condition habitats in space such as the International Space Station.
It uses a non-toxic phase-change material that not only has exceptional freezing capabilities but is inexpensive and water-based.
NASA tested a prototype of the cooler in a hot, humid region near Houston, Texas for three years. It was used for refrigerating food, drinks and water.
Texas Southern University and New Mexico State University were permitted by NASA to test and evaluate the cooler. It required five hours of sunlight daily but it can store power and remain cold for a week without sunlight.
Besides the advantages of being green this 12v cooler is essential for locations that do not have access to electricity.
Most of the developing world and it's 2 billion residents have no access to electricity or refrigeration.
Kerosene fueled refrigeration, when available, is used to store perishable goods and medications but this cooling system uses ozone depleting substances.
The cooler invented by Bergeron and Ewert has a 105 liter (3.7 cubic feet) storage volume, a locking door, and corrosion-resistant steel exterior and it works anywhere - even in outer space.
Related Articles: Einstein's Fridge
Source: sundanzer.com