New TV Technology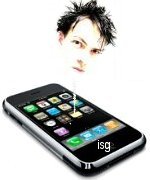 New tv technology patented by Apple promises 3d television with a holographic display.
Recently, the US Patent & Trademark Office published a patent filed by Apple last year, entitled "Three-Dimensional Display System".
Inventor, Christoph H Krah, who also invented Apple's multi-touch applications, describes this new t.v. technology as an advanced three-dimensional display system that allows users to touch and manipulate floating holographic images.
This "Star Wars" inspired technology describes a 3D television that would project holographic images in space allowing users to grasp, rotate, and push them around like objects.
This holographic technology would also be available on future generation iPads and other Apple devices.
This new tv technology delivers a holographic display without the need for eye-wear or headgear.
A feedback mechanism also recognizes and identifies the proximity, location and movements of potential viewers in real time, and adjusts the holographic images for their viewing perspective.
This means that someone passing by, or anyone in a large audience, could see the holographic images as if they were real physical objects floating in space.
See - Apple's 3D Television Patent.
Holographic 3D Television

Industry analysts believe Apple intends on targeting consumers living rooms and a share of the lucrative television advertising and subscription market.
Last year, 83 million households in the U.S. paid $74 billion to the eight most popular television subscription services; and advertisers spent $70 billion to advertise to those households.
By 2015, these revenues are expected to increase by twenty-percent.
Consumers watch an average of 5 hours of television a day, with younger viewers (18 to 24 ) averaging about 3.5 hours a day. As a comparison, the average time spent surfing the Web every day is 49 minutes.
If Apple intends to compete for the lucrative television subscription fees and advertising revenues, they will need a revolutionary innovative product.
A new t.v. technology that would revolutionize the industry much like how the iPhone and iPad revolutionized mobile devices.
Last year, during a digital conference, Steve Jobs commented that innovative technology was being undermined in the television industry.
He shared his thoughts on what would be required to create new t.v. technology, "The only way this is going to change is if you start from scratch, tear up the box, redesign, and get it to the consumer in a way that they want to buy it."
It appears that is exactly what Apple is doing. The legacy of Steve Jobs.
Sources: businessweek.com; forrester.com; nielson.com; thoughtgadgets.com; apple.com Photo credit: saivann
Related Articles... New Tv Technology - How 3D TV Works
You may also like... 3D Hologram Concert Pop-Star