Amazing Inventions
These amazing inventions are fruits grown to form into various shapes like Frankstein's face or Buddha.
The art of modifying, arranging, or decorating food to enhance its aesthetic appeal is known as "plating", which usually involves stacking food in various displays.
But now Chef's can add sculptured fruits and vegetables to their culinary art.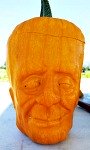 Plastic molds are placed over immature fruit and it grows into the shape of the mold as it ripens. Originally started in Japan, growing shaped fruits and vegetables was done to conserve refrigerator space or make packaging easier. The square watermelon for example.
But growers such as Tony Dighera in California has invested hundreds of thousands developing molds and growing processes into a technology that sculpts edible fruits and vegetables to look like just about anything you want.
Tony sells his watermelons and pumpkins wholesale for $100 a piece and the demand is greater than he can supply. He receives orders from all over the world and most of his produce (8,000 pumpkins and watermelons) are sold before they have even finished growing. "A very large vodka company wants a watermelon in the shape of a vodka bottle, which we could do," says Tony.
He has lots of plans for new products, such as growing logos, and is thinking of licensing his technology to other growers to keep up with the demand.
Sources: fruitmould.com; hort.wisc.edu ; cnbc.com Photo Credits: pumpkins - jane wells | cnbc.com ; watermelon - hort.wisc.edu ; pears - fruitmold.com
Amazing Inventions: The Forty-Fruit Tree

Sam Van Aken is an art professor at Syracuse University who grew up on a family farm in Reading, Pennsylvania.He wanted to create an art project using an orchard as his canvas and blossoming trees as his paint.
However, he couldn't get funding for his idea so he decided instead to scale it down to one tree.
Van Aken started his research on creating a multi-blossoming tree by studying grafting. "I had seen grafting when I was a kid and it was something that I was always fascinated with," he said.
He quickly discovered that there were a wide variety of stone fruits such as peaches, apricots, nectarines and cherries, that were inter-compatible with each other, which meant they could possibly grow on the same tree.

The grafting technigue to do this is called chip grafting. You take a sliver of a branch with a bud from one tree and insert into an incision of your working tree.
By grafting different varieties of buds, Van Aken hoped to sculpt how and when the tree would blossom and when it would grow various kinds of fruit.
When he started looking for different varieties of buds he could use - he discovered another problem - they're hard to find.
Because of the commercialization of food production many varieties of stone fruit, among other foods, are not grown because they don't have a viable shelf life for transportation and storage.
But this doesn't mean these varieties taste bad. Quite the contrary, "These varieties are so rich in their taste," says Van Aken, "The plums that I love are the greengage plums and they came to the United States from England, but were actually in France before that."

Fortunately, Van Aken found an orchard that had hundreds of varieties of stone fruit. It belonged to the New York State Agricultural Experiment Station in Geneva, New York.
This was a facility established by the New York State Legislature in 1880 to conduct agricultural science research. Since 1923 it has been operated by Cornell University and has preserved hundreds of native and antique stone fruit varieties.
With buds in hand, Van Aken began grafting a plum tree with 40 varieties of stone fruit, a process that takes about five years before the buds grow into branches.
Forty-fruit trees can be found at selected museums, private collections and community centers in the United States. Since the fruits grow and ripen at different times of the year, the forty-fruit continually yields fruit from July to October.
Van Aken is growing a forty-fruit orchard in Portland, Maine, where he plans to allow the public to purchase the fruit harvests.
Sources: ted.com/tedx; treeof40fruit.com Photo/Image Credits: Sam Van Aken, Ronald Feldman Fine Art
Amazing Inventions: The First Digital Camera

Steven Sasson, an electrical engineer with Eastman Kodak Company, invented the digital camera.
The problem with conventional cameras was that they required images to be processed on non-reusable photographic film.
Sasson's digital camera stored images electronically in a reusable storage medium, which at the time was a tape cassette.
In December 1975, Sasson took his first digital picture. He also predicted that it would take two decades before digital photography technology would evolve to replace film photography.
Sasson was awarded the National Medal of Technology and Innovation by United States President Barack Obama. It is the most prestigious award granted by the US government to inventors.
Amazing Inventions: The Phantom Flex
The Phantom® Flex is a high speed digital camera that uses high speed electronic "digital" imaging to record motion that is too fast for conventional cameras to perceive.
The patented technology captures high resolution images at thousands of frame rates per second with no blurring or distortion.
It allows moving targets to stay in-frame longer so more of an event can be captured. The technology was originally developed by Vision Research for motion analysis and it's still used or that purpose, however, it has been widely used in the television and motion picture industry.
This slow-motion technology is a crucial element in the production of 3D movies.
In fact, Vision Research won an Emmy® for Technical Engineering from the National Academy of Television Arts and Sciences.
Four employees of Vision Research, Radu Corlan, Petru Pop, Andy Jantzen and Richard Toftness also received Academy Awards® from the Academy of Motion Picture Arts and Science.
The Phantom also won the IABN (International Association of Broadcasting Manufacturers) Design and Innovation Award, as well as the Best of What's New Award from Popular Science magazine. Below are a few examples of this technology.
Source: visionresearch.com
Amazing Inventions: A Face Lift Without Surgery
A wrap is soaked with sterile saline and applied to the face. Then cold air is blown over the wrap to freeze the underlying fat cells. This is done without damaging the skin or surrounding tissues.
The photos on the right show the face lift before and after the procedure.
There is no pain medication or recovery time required because there are no needles, drugs, knifes, lasers or suction used in this process.
This non surgical face lift technology is known as cryolipolysis™ (cold lipolysis), which means the breakdown of fat by freezing.
The Food and Drug Administration approved this procedure in September, 2010 as a cooling technology for eliminating fat cells without harming the skin.
Thousands have already received this non surgical face lift procedure. The average cost is about $1500 to $3,000.
This technology was licensed to Zeltiq, a medical device company that develops and distributes medical inventions for non-intrusive cosmetic improvements.
Venture capital was provided by Advanced Technology Ventures, Frazier Healthcare Venture, Venrock and Aisling Capital.
Read related article on tissue regeneration.
Source: msnbc.com global.coolsculpting.com