Cutting-Edge Technology

Palmer Luckey is a 21-year-old inventor who recently received 2 billion dollars for his latest invention.
Luckey's invention is the latest in cutting-edge technology for entertainment - a virtual reality headset that gives you the illusion that you're inside a video rather than viewing it on a screen.
When you're wearing the headset you don't see a screen but rather a panoramic visual representation of the game and you perceive the game as if you were in it.
Imagine playing one of the many video games featuring car racing. Envision yourself sitting in a car and looking at your surroundings. You turn your head and neck to look around. You can see ahead, and above, and to either side. You can take a quick glance to see cars racing behind you, or look down at your gear shift. Everything in this game looks and acts as it does in real life.
"It's possibly the coolest thing I've ever seen," wrote Geoffrey Morrison of CNET.
Palmer was born and raised in Long Beach, California. He was educated at home by his mother and his father supported the family working as a car salesman.
As a child, Palmer had a passion for learning how things were made and for conducting experiments. He was fascinated with electrical energy and the legacy of Nikola Tesla. By age 11, he was building magnetic accelerators and resonance transformers in his family's garage.
Video Gaming
As a teenager, Palmer funded his projects with money earned fixing and selling unlocked iPhones and Nintendo DS devices.
One of his projects was video gaming and his passion for learning and conducting experiments extended to this industry.
"They're windows into worlds that let us travel somewhere fantastic," he said.
He envisioned the possibility of stepping inside these games, at least that was something he wanted to experience. To leave his current existence and go to another place and time - to travel from one dimension into another - like the characters in his favorite movies The Matrix and The Time Machine.
By age 16, Palmer built a virtual reality headset using high-pixel density displays, sterioscopic lenses and motion sensors.
These parts were affordable because they are used in mobile devices and that booming market has caused prices to drop.
The young inventor also saved money by sourcing materials from liquidators and auctions.
Virtual Reality
Palmer took journalism classes at Cal State Long Beach with aspirations of becoming a technology writer. But he dropped out and got a job at the Institute for Creative Technologies at the University of Southern California.
At the Institute, he worked at the virtual reality research lab and the director, Mark Bolas, recalls Palmer as " having a great knowledge of the history of virtual reality."
A big break occurred for Palmer when he connected with John Cormack, the programmer responsible for creating the sci-fi video game Doom. He sent Cormack a prototype of his virtual reality headset - a crude model held together with hot glue and duct tape. He called his invention Oculus Rift.
Cormack demonstrated the prototype at the 2012 E3 electronic convention in Los Angeles, the largest gaming convention in the world. That created another big break for Palmer as it led to a meeting with Brendan Iribe.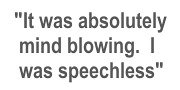 Brendan is an inventor-entrepreneur and gaming veteran who dropped out of college as a teenager to create user interface technologies for game developers.
Iribe sold his company to Autodesk and invested in Gaikai (a company that developed streaming technology for high quality video games) becoming it's chief product officer.
Gaikai was sold to Sony who integrated the technology into their PlayStation products. In 2012, Palmer teamed with Iribe to start Oculus VR, a company they organized to commercialize Palmer's virtual reality headset.
Crowdfunding Oculus Rift

Money was needed to further develop the Oculus Rift, so Iribe and Palmer created a business plan and launched a crowdfunding campaign on Kickstarter to raise $250,000. Instead, they raised $2.4 million in 30 days.
That changed everything. Investors started pulling out their check books.
"It was absolutely mind blowing. I was speechless for the ten minutes as I was going throughout the demo. You have to see and experience it or you don't get how amazing it is," said investor Santo Politi, of Spark Capital who invested $16 million in Oculus.
Similar accolades were made by the Venture Capital Firm Andreessen Horowitz. They invested $75 million in Oculus. Andressen Horowitz were early investors in both Facebook and Instagram so it wasn't surprising that Mark Zuckerberg was also interested in Oculus.
Facebook Buys Oculus Rift
The Facebook founder made Oculus an offer they couldn't refuse. He bought the company for $2 billion stating, "Oculus has the potential to be the most social platform ever. Immersive, virtual and augmented reality will be part of people's daily lives."
"There aren't many things that have the potential to be the next big computing platform," said Zuckerberg about Oculus.
"It's not just a peripheral device for game developers. This is a new medium for storytelling" said Oscar-nominated film director Danfung Dennis.
"It is a transformative and disruptive technology that enables the world to experience the impossible, and it's only just the beginning," says Iribe who also revealed that the company has development plans to include smell and touch into the Oculus experience.
Zuckerberg envisions Oculus being used for virtual reality visits. He suggests we could experience interacting with others in a virtual reality environment such as going on a vacation, participating in a class, attending a meeting or seminar - all from the comfort of our home.
The official commercial release date for Oculus Rift is expected later this year or in early 2015.
Sources: oculusvr.com, latimes.com, creativecommons.org, forbes.com, nytimes.com