Invention Ideas

An inventor who created a $100 homemade 3d printer kit has received $720,000 in advanced orders for his product in just 30 days.
The technology of 3d printing, machinery that carves or sculpts 3d objects from a block of material using a computer generated design, has been around for years. Although fast and accurate, this technology was very expensive costing hundreds of thousands of dollars to operate.
However, recent advances in 3d printing has significantly reduced those costs by using machines that make objects by squeezing melted plastic, silicone or rubber through printing heads. This builds an object layer by layer rather than carving it from a solid block of material.
Cheap 3d Printer
But for 28-year-old inventor Rylan Grayston, the $3500 price tag for the 3d printer he wanted was still more than he could afford. So he started thinking about how he could build his own cheap 3d printer.
He wanted a portable 3d printer, which meant designing something lightweight that could be assembled and disassembled easily, yet capable of scaling to create larger objects.
He wanted his invention to be compatible with any device - not just desktop computers. He wanted to enable his smartphone with an app so that he could design a product on his phone and then plug his phone into his 3d printer to create the product.
But above all, he wanted his high performance invention to cost no more than $100.
DIY 3d Printer
After a year of tinkering and using available homemade items, Grayston achieved his goal and stunned the world by inventing a $100 do-it-yourself 3d printer kit that could do everything he set out to have it do.
What's even more amazing is that Grayston doesn't have a post secondary education in computer science or engineering. He lives in a remote small town (Yorkton, Saskatchewan, Canada) and used information he found on the Internet to reinvent 3d printing technology.
According to David Gerhard, a professor of computer science at the University of Regina, Grayston's homemade 3d printer uses totally new 3d technology. "It blow's my mind. It's quite amazing to see the shift in thinking. It completely changes the game," says Gerhard.
Apparently, he's not the only one that believes Grayston's diy 3d printer is a game changer. The fact that you can inexpensively and easily transform an idea into a product, at anytime, anywhere, within hours, if not minutes, is attracting a lot of attention.
Inventor Gets Millions
Rylan posted his 3d printer kit, called the "Peachy Printer", on crowdfunding sites (Kickstarter, Indiegogo) to solicit advanced orders for his new invention.
Within 24 hours he received $50,000 worth of orders. In 10 days, the orders were over $500,000 and within 30 days he had received over $720,000.
Rylan expects to reach over $3 million in advanced orders and has scheduled June 14, 2014 as the delivery date for fulfilling those orders.
How It Works
Grayston explained that a major obstacle he faced when creating his 3d printer kit was avoiding the use of costly components common to 3d printers.
To accomplish that objective, he had to think of how he could achieve the same functions using different methods and materials.
Rylan uses biomimicry when he thinks about solving problems. He looks at something and asks himself, "What in nature wants to be that way?" For example, 3d printers use a rising platform upon which an object will be made.
This platform requires expensive microprocessors and motorized components to operate in synchrony with printing heads so that resin can be deposited layer upon layer to build an object.
Grayston needed something that would function in the same way as a platform but wouldn't require expensive components. He needed something flat that would rise in a controlled manner and would hold resin.
"What in nature wants to be that way?" he thought. His solution was water in a container. He could float light sensitive resin in a container of water. The resin would rise up in the container as water was added through a drip tube.
To shape the resin into an object, Grayston uses a pair of mirrors that reflect and control the movement of light beams.
To control the mirrors, he uses a software add-on that converts 3D designs into audio files. The audio wave plays through a headphone jack and moves the mirrors in a corresponding pattern that causes the light beams to sculpt the object from the resin as it rises in the container.
This allows anyone with a smartphone to create objects using his printer.
Sources: peachyprinter.com; kickstarter.com; globalnews.ca
Energy Saving Device
Sine Slice may be one of the next big invention ideas in energy saving devices.
Inventor William McSheffrey, a consultant to companies like Intel and Nokia, has developed an energy saving technology that increases the efficiency of anything electrical.
He invented a controller known as a "Sine Slice", which is a device that manipulates the waveform of a current so it's more efficient.
The device can reduce energy consumption for lights, appliances or anything electrical as much as 25% without reducing power.
This new technology can also increase battery life and the energy outputs of wind turbines and solar panels.
Sine Slice won the 2012 Dragons Den Innovation Award.
Sources: sineslice.com; freepatentsonline.com
Charlie Sheen Invention
Actor Charlie Sheen has invented a lip balm dispenser.
His invention uses a retractable cap that opens with a slide of your thumb, and then slides closed after the lip balm is applied.
According to Sheen, the benefit to the user is that you can apply lip balm using only one hand.
The dispenser also includes a window so you can see how much balm remains. Charlie filed his patent using his real name Carlos Estevez.
Lip balm was first invented in the 1880s by Dr. Fleet from Virginia.

The wax-like balm was shaped like a candle and wrapped in tin foil.
But it was Oscar Troplowitz who invented the first lip balm dispenser in 1911. It was a tube made of tin and later from aluminum.
In 1953, plastic replaced the metal and ten years later a twisting mechanism was invented.
According to Mr. Sheen, he was close to negotiating a licensing agreement for his invention with Chapstick but couldn't agree on manufacturing costs.
Sources: uspto.gov; labello.com
Inspired By Nature
Many invention ideas are inspired by nature. Studying nature in order to create new inventions is the science known as biomimicry.
David Soane, a former polymer chemist with the Department of Chemical Engineering at the University of California at Berkeley, together with other scientists, studied nature to create a fabric that would mimic the properties found in plant surfaces and animal coats.

Their research resulted in a revolutionary new invention idea for creating textile fabrics.
Nano-Tex® uses nanotechnology to transform fibers on a molecular level to create fabrics with unsurpassed comfort and performance.
With the comfort of 100% cotton these fabrics repel liquids, lint, dirt and pet hair, release stains, wicks moisture away from skin, isolates and neutralizes odors, and balances body temperature.
The fabric does all this while breathing naturally and remaining soft.
Gap, Old Navy, Lee. Eddie Bauer, Nike, Nordstrom, Brooks Brothers,Champion, Levi, L.L. Bean, Simmons and Serta are some of the leading brands that are investing in Nano-tex products.
Source: nano-tex.com
Body Interfacing

One of the newest invention ideas in interface devices is Skinput.
This invention allows the surfaces of your body to be used as a touchscreen.
This is how it works.
An armband projects the image of a menu or keyboard onto your hand or forearm. This armband also contains an bio-acoustic sensor that can detect and analyze sound frequencies.
Because of bone density, joints, and soft tissue, different locations on the body have different acoustic properties.
When you tap your finger on different parts of your body it creates a unique frequency based on the specific area.
Skinput can detect what part of a projected image you are touching and in turn can transmit a wireless signal to a computer, smart phone or other device.
Skinput was created by the project team of Desney Tan, a senior researcher in the Visulization and Interaction Area at Microsoft Research; Dan Morris, a researcher in the Computational User Experiences at Microsoft Research; and Chris Harrison, a third year Ph.D student in the Human-Computer Interaction Institute at Carnegie Mellon University.
Source: research.microsoft.com/en-us/um/redmond/groups/cue/skinput
Flyboarding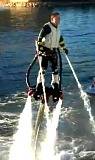 In the picture to the right, Franky Zapata demonstrates his Flyboard invention.
It's difficult to describe the Flyboard other than to say it uses water propulsion from a jet ski to soar you through the air.
This recreational watercraft reminds me of Iron Man or Dr. Octopus of Spider Man. It is quite spectacular.
You can soar 30 feet (9 meters) in the air or dive underwater. Zapata describes the experience as "air surfing".
Recently, flyboarders from all over the world participated in the first Flyboard World Cup freestyle competition in Qatar.
Thirty-two competitors were selected by five judges for the finals.
The winner was Stephane Prayas of France. Watch the video below.
Sources: zapata-racing.com