Mobile Internet Devices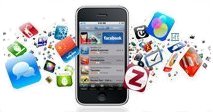 Creating smartphone apps for mobile internet devices is making inventors rich.
"Apps" is the abbreviation for software applications that allow mobile devices to perform specific functions.
The popularity of apps is that they're inexpensive (a few dollars to download) and they cater to your interests.
Whatever your interest, there is most likely an application that will meet your needs - everything from playing a game to finding out which local restaurant has a breakfast special.
The first iPhones were introduced in June 2007 but it wasn't until a year later that Apple decided to open an online App Store allowing inventors to develop and sell applications to 40 million iPhone users.
Apple also released iPhone developer kits to help inventors create applications.
Inventors Getting Rich
Steve Demeter, a former bank employee who lives in San Francisco, started brainstorming an idea he had for a puzzle game. He spent a few months learning how to create the code for Trism, a game which takes advantage of the touch and tilt features of the iPhone.

Trism involves touch sliding or tilting a screen full of multi-colored triangles to get a row of three matching triangles.
Once a match is made you score points and the matching triangles vanish and are replaced by more triangles.
Steve filed a patent and submitted his game to Apple. In July 2008, the App Store released Trism to iPhone users as a $5 download.
Inventors earn 70 percent from the sale of their software and within two months Steve made $250,000 and is still counting.
iShoot
Ethan Nicholas, an employee at Sun Microsystems living in Wake Forest, North Carolina heard about Steve Demeter's success and decided to invent his own game.
Nicholas was a programmer but hadn't built a game using the Objective-C coding language required for the iPhone.
Using a software developer kit provided by Apple and information he found on the Web about mobile internet devices, Ethan created an artillery game. He submitted "iShoot" to Apple who released it in October, 2008.
Ethan earned $1,000 the first day, $2,000 on the second day and is still counting. In one day 17,000 copies were downloaded earning the 30 year-old Ethan $35,000 for the day. In five months he earned 800,000 dollars.
"That's when I called my boss and said, 'We need to talk,'" says Ethan, "And I quit my job."
"There is so much buzz around apps right now," says inventor Karim Mitha.

Karim created an application that uses the iPhone gps system to find restaurant specials that are near the iPhone user's location.
Similar applications are being created by other inventors - everything from using your iPhone to scan products for price comparison shopping to accessing train and bus schedules.
"The rush to stake a claim on the iPhone is a lot like what happened in Silicon Valley in the early dot-com era," says Matt Murphy of venture capital firm Kleiner Perkins Caufield and Byers.
iSteam
Kostas Eleftheriou, a 25 year-old who lives in London invented an application called iSteam, which makes your screen fog up like a bathroom mirror after a hot shower.
When you swipe your finger across the screen the fog wipes away with a familiar squeaky-clean sound effect.
"It's quite a good illusion," says Kostas. And even better money maker. In three months, Kostas earned $100,000 for his invention.
The Apps Gold Rush
Steve Jobs has created a market where software inventors can flourish. If there is one person who understands the frustration of being an inventor - it's the founder of Apple Inc.
As a college student his concept for the Apple computer was spurned by just about everyone in the computer industry so he started his company out of his garage. Thanks to Jobs, innovative developers can get rich with nominal resources - even working out of their garages - but they need a great original idea.
Apple currently has about 65 percent of the applications market for mobile internet devices and has sold about 3 billion of it's 140,000 applications in the past 18 months, which has the manufacturers of mobile internet devices playing catch-up.
Following in Apple's footsteps, Google has opened it's own on-line apps store called Android Market, and Research In Motion has started their App World for Blackberry Apps.
Anthony Rizk and Dan Gagliardi created a Blackberry app called BabyGo to help young children learn the alphabet.
The Blackberry application displays colorful letters on the screen and phonetically sounds each letter when the child presses buttons on the keyboard.
Over 100,000 copies have been downloaded and it is now available as an iPhone and Android app.
Palm, Microsoft and Nokia have all announced they will be launching their own App Stores for their mobile internet devices.
Sources: apple.com/iphone; nytimes.com/iphonegoldrush photos: apple; demiforce, google; rim; specialstoday