Must Have Gadgets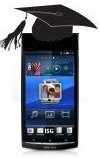 Stanford graduate student Ben Dodson demonstrates in the video below what may be one of the must have gadgets of the future.
He makes a finger drawing on his smart phone. He touches his phone to his friend's phone and instantly transfers the drawing. His friend continues the drawing on his phone and the changes instantly appear in real time on Dodson's
phone.Dodson then touches his phone to a television remote and the drawing appears on a big t.v. screen where it continues to be created simultaneously by Dodson and his friend using their smart phones.
Now imagine gathering with friends where multiple participants share a game by using these new smart phones. Each participant is now a player in the game using their own mobile devices.
But the game is also shared with the television remote so the participants can view and control their game play on a big screen.
Imagine sharing movies or music in this same manner by simply crowd sourcing content from these smart phones to a home theater or sound system.
MobiSocial
Welcome to "mobisocial" and the new smart phones of the future.
Mobile and Social Computing Laboratory at Stanford University is developing this open-source mobile social media future with support from the National Science Foundation, Google, Nokia, Sony Ericsson and AVG.
They have created a suite of applications such as anytime-anywhere communications with friends, making purchases, transferring contact info, video and photo sharing.
These new smart phones would be operating independent of proprietary social networks and will be open-source to foster innovative uses while protecting personal data security.
These mobile devices could become the must have gadgets for users that want the best smart phone for interacting and sharing outside proprietary social networks.
Current social networking providers are closed networks and they often own your content posted to their servers. The content can also be searched, analyzed and used for advertising purposes.
MobiSocial platform will be based on widely adopted email technology, where providers and open standards have privacy of content and non-sharing with third parties.
Source: mobisocial.stanford.edu
Twine

This product has to be on our list of must have gadgets because it allows objects and spaces to communicate with you.
It's the creation of inventors and MIT graduates, David Carr and John Kestner.
Their invention known as "Twine" can tweet you when your laundry is ready, text you if your garage door is left open or send you an email if your basement floods.
Twine is a WiFi enabled sensor pad that is attached to an object. A simple web app allows you to instruct the pad on what information you want to collect and where to send it.

The 2.5 inch square pad is powered by 2 AAA batteries or a micro USB connection, and it will send you a text message if it needs charging.
The device contains a number of sophisticated motion, moisture and temperature sensors for collecting information about an object or a location.
Source: supermechanical.com
Search Inventor Strategies Website.
RETURN TO ELECTRONICS